Description
Discrete event simulation is being used to assess new wound care technology and its health and economic impact to patient cohorts that move through different clinical care pathways in the UK and Germany.
Discrete event simulation is gaining favor over Markov models in the health economics community and policymakers for its ability to accurately model the course of a disease and any impact on constrained resources (Simpson et al, 2009; Caro, 2010; Jahn, 2010). Moreover, discrete event simulation software now provides improved graphics and online access, allowing decision-makers to easily interact with the simulation, run their own experiments, and to better understand both the disease progression as well as the impact of an intervention on cost, waiting times, resource utilization and patient outcomes.
The disease simulation model was created with expertise from wound care specialist clinicians in the UK and Germany and results validated with data from clinical trials, database query and secondary sources. The interactive model is used to present the way in which wound care patients typically present and are managed, and the value proposition of any change in treatment regimes.
In Germany, the key audience is wound experts, sick fund executives and private insurance companies. The United Kingdom model is used to show value proposition of wound technology to wound experts, primary care trusts and clinical commissioning groups for cost-effectively managing wound patients and budgets in the "Real World".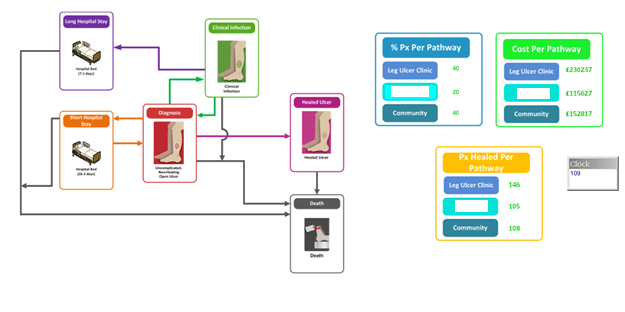 Clinicians, policymakers and administrators find the model to be highly representative of their wound management clinical pathways, easy-to-understand, and impactful in supporting decisions to change direction in the management of hard-to-heal wounds.
Discrete event simulation is now becoming a major tool for administrators and policymakers to use in making major decisions on the treatment of wound care patients and reimbursement in the UK and Germany.